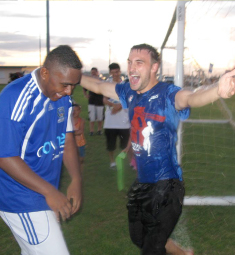 World's worst team tackles fat, funding and focus (and coached by Bristol City fan)
The Briton who laid the foundations of football in Pohnpei is calling on the sport's highest ranks for funding to develop the game in this Pacific outpost.
Paul Watson was a low-level, semi-professional footballer and journalist in the UK, but had never fully given up his dream of playing international football, he told BCCJ ACUMEN.
"My flatmate, Matthew Conrad, and I went in search of the lowest ranked team for which we could try to play, and found Pohnpei on a list of football bodies not recognised by FIFA; they had never won a game".
After contacting the head of the nation's football association, they were told Pohnpei really needed a coach.
"And so I decided to go for it", 28-year-old Watson said. "I left my job and moved to Micronesia".
The scale of the task facing the Bristol City supporter became apparent as soon as his flight touched down in the island nation, officially ranked as having the worst footballers on the planet.
"The main problem was a lack of formal coaching", he explained. "While there was a very good level of athleticism and natural talent, knowledge of the rules and systems of play were limited.
"You can't visit the islands without being struck by the problem with obesity and the lack of direction and purpose displayed by so many of the locals", he added. "It was always my hope that football could provide a positive sporting outlet for the naturally gifted young athletes who so often become obese adults".
Watson spent 18 months in charge of the fledgling team, using his own savings to buy boots, balls and other equipment, while also begging for scraps from Tottenham Hotspur, Yeovil Town and Norwich City.
"The high-point of my tenure was creating a team from the Pohnpei Premier League that we set up, leading them to Guam on tour and winning a game 7-1 against The Crushers, a Guam club team", Watson said.
Watson returned to the UK in October 2010 and has since written a book—Up Pohnpei—highly acclaimed for turning the toad-infested training facilities, and one of the world's wettest climates, into a humorous tale.
But he continues his quest to have Pohnpei and its pool of 34,000 potential players climbing the FIFA world rankings.