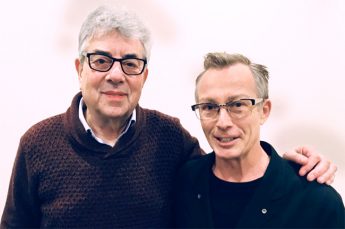 Meeting up with Graham Gouldman in January, backstage at Billboard Live Tokyo, was more like having a fireside chat with an uncle in a woolly sweater than music-industry slog.
The founding member of legendary British rock group 10cc told me how excited he was to be back in Tokyo, which he called "a great buzzing city". He had been walking around with his wife, shopping for a handbag requested by his daughter back home, and was reminded of "how very nice and very sweet" it is to have loyal Japanese fans. They have been coming to the live shows for more than 40 years.
He was also a bit bashful as he talked about being on the road with his touring band. "It's just a joy to be with them, not only to make music with them, but, as travelling companions, we have a lot of fun together. It's like being in a gang when you're a kid, actually. I sometimes feel a bit guilty about it, but what can I do? Someone's gotta do it!"
And he's been doing it since the 1960s with various incarnations of 10cc. The group had a string of global chart hits in the 1970s, including:
"The Wall Street Shuffle"

"The Things We Do for Love"

"Dreadlock Holiday"

"I'm Not in Love"
The creation of the last one—10cc's most iconic synthesizer tape-looped soundscape, with its disguised lyrics of love—embraced the studio tech­nology of the time.
"We were really emulating what the Beatles did in the late '60s, in that the technology improved and we were very lucky we had our own studio and [could] be completely self-contained. A lot of the time, we didn't have any­one else in the studio with us at all. I think that was very important and made us what we were. We always tried to put something unusual sounding onto the track early on that would send us in a slightly different direction".
Yes, I am
The band was different to other chart-topping groups in that all members were multi-instru­men­ta­lists and singers who swapped roles depending on the song. "10cc is quite unusual in the way that we had three number-one singles with three different singers," Gouldman said. "That was because we always chose the best person for the job. We tried to be unselfish. 'If you can do it better, or if it's better for the song then you do it'".
Does Gouldman still enjoy tinkering in the studio today? "I do. I love recording. I put out some solo albums. I do it because I need to do it rather than anything else. I don't look for any million-dollar sales, but I love to record and write—and it's great to have for the fans. Like a lot of my contemporaries, we write and record because we have to do it, and hopefully other people will like it. But, really, essentially it's for yourself in a way".
Feel the benefit
This unending need to create music carries over to performing live, too. "I've always loved playing. There's a lot of people who are older than me who cannot stop playing because they love it. A lot of us don't have to do it, but we love to do it. It's a joy to do it and I think, in a way, it keeps you young as well".
Gouldman added: "Anything you enjoy and look forward to and can do—as long as it's good for you, and playing music is good for you—it's good for your health. I can't do anything else really. Well, I'm not very good at anything else, so I'm happy to still be doing it".
I wanted to know what set Gouldman on this musical journey and if there was one experience he was so glad happened?
"Wow. Well, the moment [without which] I think I wouldn't be here today is when my late cousin Ronnie bought me a guitar. I was 11 years old and that changed my life".
Which led us to discuss the power of music. "Well, I mean, it's like breathing, eating and music—it's that important. Not only for me to be able to enjoy the life that I have, but it's so much. I could go on about it for hours. It's like medicine, it's life affirming and life giving".
Don't hang up
Is there a piece of music Gouldman keeps coming back to that he cannot live without? "You know, there's so many pieces of music that I love or wish I'd written—it's very hard to say. A song that never fails to move me is "Somewhere" from West Side Story, written by Leonard Bernstein and Stephen Sondheim. As soon as that starts, I've gone. And I think if that doesn't show you how powerful music is, then I don't know what can".
The mention of a musical made me think of the Broadway and West End shows being produced around rock groups and their catalogue of hits. I asked if we would ever see a 10cc juke­­box musical? "You know, I've heard several different ideas, but nothing's ever reached fruition. So, if it happens, it would be very nice; but, actually, it's not some­thing that interests me so much".
In any case, Gouldman and 10cc have a full calendar ahead, with touring and summer festi­vals at which they will perform their hits again and again.
I pondered that Gouldman may have no idea how many times he's sung "I'm Not in Love", but does he know how many times he's said "I am in love"? He laughed. "Oh, wow! That is quite a question!" "I've probably said it too often. But, I eventually said it to the right person".