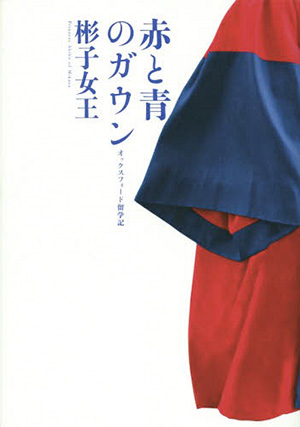 The author, Princess Akiko of Mikasa, is the elder daughter of the late Prince Tomohito of Mikasa, who, until his passing in June 2012, was honorary patron of the Japan-British Society.
Aka to Ao no Gaun is a collection of essays, written with a light touch and obvious candour, covering the princess's two periods of study at Merton College, Oxford. She was initially there as an undergraduate in 2001–2, and then as a probationer research student and doctoral candidate for five years from 2004.
I met the princess in the mid-2000s through an introduction by a mutual friend, when I used to sing with, and manage, a choir in Tokyo. She had expressed an interest in joining the group and came to listen to us rehearsing. The interest was taken no further.
We then ran into each other near Mitsukoshi Department Store in Ginza; she recognised me before I did her. Soon thereafter, she graced one of our concerts with her presence. Through these brief encounters I formed a view of the princess as an easy-going young lady with a curious mind: qualities that come through well in her writing.
The book covers a period of six years, taking us through her time in the UK and the rest of Europe. She describes her initial struggle with the English language; life without a personal guard; going incognito; making friends; facing academic challenges; having tea with Her Majesty the Queen; travel nightmares on public transport; broadening her cooking repertoire; and organising Japanese art exhibitions. These are all covered, in addition to the principal theme of her post-graduate studies.
It is clear that, as a member of the Japanese Imperial family and with an upbringing that, quite possibly, was somewhat cosseted, the princess was initially confounded by the freedom she experienced as a university student away from home and vexed by the responsibilities that came with this.
Her second stay at Oxford seemed to harden her, however, as she was put through the rigors of proper academic research while taking care of herself without daily domestic support. She candidly refers to her close calls with pressure-induced nervous breakdowns, and is open about the hardship of doctoral work.
One has to assume that there were privileges that the princess enjoyed even as a student, whether or not she was aware of them. Perhaps allowances were made, so that her existence was rather more comfortable than the lot of Japanese commoners studying with her. There are few references to her peers from Japan, making it impossible to know her thoughts on this.
The book is as much about the princess's time at Oxford as it is about her late father, whom she describes in the warmest tones. The prince cut a popular figure in his younger days as an active and sometimes colourful—even controversial—cousin of Emperor Akihito.
Himself an Oxonian, we learn that it was he who inculcated in his young daughter's mind the idea that she, too, would one day become one. While the princess is not entirely uncritical of her father, she directs her harshest criticism towards the Imperial Household Agency, whom she comes close to accusing of pedantry, being inconsiderate, and of obstinacy in their treatment of her at the end of her studies. This refreshing frankness adds authenticity to the book, which the author calls her graduation report on her time at Oxford.