When, in 1982 as a 17-year-old, I first heard The Lexicon of Love, the debut album recorded by British New Romantic band ABC, I was immediately swept into a new world of music. It was pop theatrics (a little bit Bowie), vocally dramatic (a little bit West End show or Sinatra) and a highly polished production (very much a new bombastic studio sound by producer Trevor Horn). And yet it was a recognizable place for me; I had grown up in a home with a mother who played show tunes, a father who played Frank Sinatra and sisters who played David Bowie. But it was a totally new sound and became an exciting new world for me and my friends to explore.
I had just started a training course at the local university radio station and was learning how to operate the studio at the same time as discovering this new wave of British music—heavenly sounds to spin while twiddling with the new machinery. Fast forward to modern day Tokyo, where I meet and interview—for the first time—Martin Fry, lead vocalist of ABC, before one of their shows. We chat about this new world of music.
Fry was delighted to be back in Japan, and surprised it had taken him so long to return since the huge success of ABC in the early '80s. He noted the shiny cleanliness, newness and design aesthetic of the city saying that he loved being somewhere with such "faith in the future".
In the moment
One of his standout memories of an early trip to Tokyo was seeing Ryuichi Sakamoto, legendary Japanese musician and founding member of electronic pioneers YMO—Yellow Magic Orchestra—and Grace Jones in the front row of the audience.
Sakamoto was so impressed by ABC's drummer David Palmer that he asked him to join YMO on tour the following year. Fry quipped, "Yeah he nicked our drummer! But David and I are really good friends and it was the musical journey he had to take". He added that Japan can also steal one's heart: "It's great to be back and a real privilege to stand on stage and play".
I wondered whether it was intimidating to have other big name artists attending your shows. "A couple of times. Stevie Wonder came to a show, and Andy Warhol. But the most intimidating time would have been when David Bowie came to a show. Nobody told me, they let him stand and watch the show in the wings. I would have freaked if I'd known Bowie was there at Hammersmith Odeon".
But entertainment is bigger than nerves. As Fry put it, "When you get up on stage you've got to create that magic. On stage it's very much just in the moment". Young people creating their own magical world to disappear into was a key part of the New Romantic scene, which spawned some of the biggest names in British music, including Culture Club, Duran Duran and Spandau Ballet.
ABC's The Lexicon of Love album was produced with the spirit of the times. "The moment was right, we wanted to do something that was Sinatra and electronic and very old fashioned at the same time. Rock and roll was all leather trousers at that point. It was coming out of punk rock.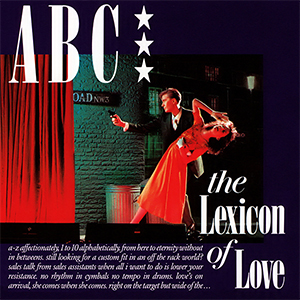 "I had lived through The Sex Pistols and The Clash and The Subway Sect and Siouxsie and the Banshees—she was so stylish—but we wanted to take the music in a different style, in a different direction, which at the time is what was done by a lot of other bands, such as Depeche Mode, The Smiths and The Human League. Those bands were working in a different way and we were the same.
"I think what I like to do is take ideas from other sources and pack them in a pop song. I suppose it is theatrical, but it is built upon artifice and real feelings as well. You kind of create your own world definitely".
I wasn't the only person whose musical imagination was lit up by this new world, because The Lexicon Of Love went straight to number one on the British album chart in July 1982. It was a defining moment for Fry. If music were a contest you could say ABC knocked Roxy Music off the top spot, but perhaps out of respect for his idol, Fry says he was thrilled that ABC "followed" Bryan Ferry and Roxy Music's Avalon album to number one.
Therapeutic
Fry is openly grateful for the success he has had and the joy music brings to people. He doesn't wallow in the '80s, because some of his greatest musical moments have taken place more recently, including performing at the Royal Albert Hall in London with full orchestra in 2009, and at a festival which 40,000 people attended in a field in Europe.
Having being diagnosed with Hodgkin's lymphoma in 1986, and subsequently having undergone treatment, his good fortune is not lost on him. He quoted the Pet Shop Boys lyrics, "what have I done to deserve this", to reflect his thanks. "You never ever factored in at all that you'd still be around and in a position to play your music", he added.
I always discuss with musicians the power of music, and ask if it was music that got Fry through the difficult times.
"Totally. There's a song we do called When Smokey Sings, which is about how therapeutic music can be. Where do you turn to when you're having a really tough time? You do turn to music; everybody does. That's what your soul is all about, I guess".
There's nothing more thrilling than dis­covering new music that hits the soul and takes you to a different place, and sometimes it's still exhilarating to listen to a favourite discovery from your teens that immediately transports you to a familiar world you call your own.