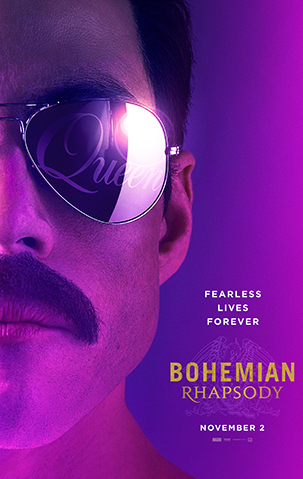 It looks as though the film Bohemian Rhapsody, about legendary British rock group Queen, formed in 1970, and the iconic Freddie Mercury (1946–91), is now real life mirroring art mirroring real life.
Both the band and the film experienced turbu­­lent times. They ultimately went on to become crowd pleasing, monu­men­tally profitable entertainment juggernauts despite having suffered overblown production moments and internal crea­tive disputes, with core members refusing to give in to their critics.
On a chilly morning in November, just prior to the film's Japan release, I attended a press conference at Tokyo Midtown's garden terrace. The presser featured three of the lead actors: Rami Malek, who impeccably portrays Freddie Mercury; Gwilym Lee, cast as guitarist Brian May; and Joseph Mazzello, in the role of Queen's original bass player John Deacon, who retired in 1997.
Taking the stage
Malek opened the press conference, saying: "We are exceptionally proud to be here and to celebrate this film with you in Tokyo. Queen were so embraced by the Japanese people, and Japanese culture became part of the fabric of their DNA. One of my favourite photos of Freddie Mercury is of him wearing a gorgeous kimono on stage, and one thing I got to keep—and treasure—is a kimono that I wore in the film".
The three actors talked about the challenges of portraying such well known performers with an immense and loyal fan base.
Malek on Freddie Mercury: "I thought he's the most spontaneous enter­tainer I've ever seen, not only on stage but in his personal life. And you get this feeling that, what­ever's happening for him, every second is happening in the moment and that's why he captivates your attention like no one else.
"I thought I have to be as spontaneous as he was, so I never worked with a choreographer. I worked with someone who could articulate his movements, I listened to his mother talk, so I could understand where his accent really came from. I never tried to copy him. I tried to understand what the evolution of Freddie Mercury was. And, as we all said, we are trying to do justice to these human beings and make this as close to exceptional as [the original artists]".
Lee on Brian May: "Yes, it was a real weight of responsibility. We felt the pressure not just to try and do justice to the stories of the characters, but also to the fans. And there was certainly a great list of tasks. For me, it was trying to play guitar to the level that Brian does. But what was very liberating, very early on in the process, is that we had Brian and Roger Taylor at our disposal. And to have their full blessing—they never cast any critical or judgmental eye on us at all. It was always from a place of support and a place of love, so to have that for me, personally, gave me a great sense of freedom".
Mazzello on John Deacon: "I've never played anyone this famous so, in this case, I—and we—didn't just feel responsibility to the people we were playing, but to the families and to the massive Queen fandom.
"And, just a small anecdote about that. I remember that I picked something out of one of John's performances—he did a little dance during a performance of Bohemian Rhapsody, and I said, 'I've got to put that into the role, I've got to do that move'—and it's in the trailer of the film.
"On social media, someone commented, Oh, I've never seen John move like that'. And, in an instant, 10 people responded saying, Montreal 1981'. They knew the exact concert, the exact day, the exact move, and it was in that moment that I was, like, 'That is why I've put so much work into this.' That is the exact reason, because I know people would care that much about this".
The actors acknowledged that the film has changed their lives and, probably, the lives of the audience.
Malek: "When I finished playing Freddie Mercury, and through the course of playing Freddie Mercury—and I think this goes for all of us—I felt quite liberated. I felt I could do things I never quite felt possibly comfortable enough to do, not only on stage but as a human being.
"I think what Freddie Mercury and Queen do on stage, and the way they connect with their audience, and through their music, is this ability to allow everybody to feel accepted and appreciated for exactly who they are. What Freddie did and what Queen did is live their most authentic lives".
Lee: "The thing that always appealed to me about Queen is the unashamed celebratory nature to their music. They didn't concern themselves with what critics thought or whether they were deemed to be the coolest rock band. They just had a real courage in their convictions, a real belief in their talent and they took risks.
"They didn't tie themselves down to a specific genre, and I think that's really inspiring. It was inspiring to me, playing this character, because it gave me confidence. It gave me the courage of my convictions as well. It encouraged me to take risks and to be whoever I want to be. I hope it has this effect on audiences. What's beautiful about this film is people around the world go and see it, families are going, parents take their children and there's a sense of pride and joy. They're passing on their passion to their children".
Musical impact
The comment I personally found most profound was Malek reflecting on the impact Mercury has now had on him.
"I remember when I got the role. I thought, 'How am I going to fill Freddie's shoes?' I opened the script, and got to page 22, and the scene said, 'Freddie Mercury plays the piano upside down'! And I thought, 'How could it get any harder?' Here is a man who held hundreds of thousands of people in the palm of his hand—and I thought he's super human—and I have to find a way just to bring him down to a mortal status. I thought he can hold thousands in the palm of his hand but, at the same time, there was a man who just wanted to be held in someone's hands himself. And that was the way I thought I could connect with him: a human being who was struggling with very human complexities and complications, struggling to identify himself as an immigrant from very humble beginnings—he only came to London at the age of 18.
"My family immigrated to the United States from Egypt. I don't think they would ever have thought I would be in Tokyo giving a press conference about playing Freddie Mercury in front of all of you. So, I think there is just a sense that anything is possible. It is an overwhelming task, but it is something that can be accomplished. It gave me great hope and great faith".