Across the UK, in June and July members of the public get a glimpse of the future of British design at graduate shows. About 5,000 fashion students graduated in the UK this summer, along with 10,000 others studying the design of products, furniture and jewellery, etc.
Seeing all the shows is very difficult, so the "New Designers" exhibition at the Business Design Centre in London displays, over two weeks, the work of the 3,500 graduates.
The standard gets more professional every year, and I was particularly impressed this time by the quality of display, which is as good as that of a professional designers' event.
Many colleges have technology, such as rapid-prototyping machines, with which they can make sophisticated prototypes and models that almost convince you their designs are the real thing.
Perhaps the capability to produce such models means that students now are taking themselves more seriously. Many create work almost ready to be mass manufactured or handmade products that will easily find a market.
Here are some examples that caught my eye.Tanya Haynes, of Kingston University, took a cumbersome, ugly product and made it look good enough to hang up at home—her wall-mounted printer frees up desk space. This mature young designer also invented a keyhole and power point that can be used in the dark or by blind people. A simple slot in the top of the socket or keyhole allows users to feel the holes without danger.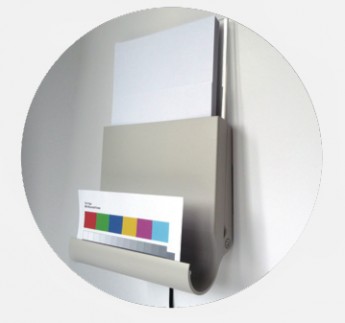 From the same university, I was also impressed with the work of Hua Yang, who had designed a range of kitchen accessories knitted with heat- resistant silicon rubber cord. All are unexpectedly beautiful and reminiscent of handmade crafts.
Many graduates had focused on sustainability, thinking of ways to conserve materials or encourage different lifestyles.
The work of Raquel Sereno, of Brighton University, drew attention to the sustainability of forests in her native Mexico. She designed products for coffee tables, such as a candleholder, bowl and tablemats using a variety of Mexican wood, cornhusks and pine needles. "My work shows the juxtaposition between deforestation and day-to-day life in Mexican society, as a coffee table is the meeting point in all social levels", she said.
It's a strong feature of British design that many of our practising designers come from all over the world. Many of their concerns—such as sustainability— overlap with our own, and their work provides a platform for a shared discussion.
Another product that is not solely functional and carries a message is a lamp by Arlan Harris, of Camberwell College. Looking like something from the film Blade Runner, it is a quite eerie mixture of old parts of antique machines and pieces of bamboo, suggestive of Eastern cultures.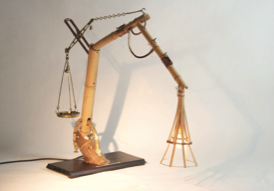 A section of New Designers is devoted to seeing what students are doing one year after they graduated. It is encouraging to see how many have quickly forged successful careers. In such a highly competitive market, this often means employing imaginative marketing techniques.
The design collective Faerid comprises three women who studied in the UK but hail from Iceland. By forming a collective, they have been able to share a web platform and give themselves an identity and profile that would be tough to achieve had they attempted to do so individually. The work they displayed included an unusual walk storage system made from spherical clear plastic and a white wooden picnic basket, inspired by a traditional Icelandic design. Best of all, sticks of Icelandic liquorice were being given away at the stand. This group will go far!