The title really says it all. The publishers believe that it is people who make places. When we visit a new and unfamiliar city—especially one as big and diverse as Tokyo—we become dependent on the people around us. "It's because of this that their generosity stays with you always", the author, Charles Spreckley, writes.
What this publication sets out to do then, is to discover more about those people—"The people who between them, construct the reality of the city: its cultural spaces, fashion stores, bars and coffee shops, and especially its food culture".
The current volume has some 48 chapters, each of which introduces a place of interest and does so with reference to an individual. So, for example, the chapter on the Nezu Museum in Aoyama focuses on its head, Koichi Nezu, who talks about the recent rebuilding of the museum by the renowned architect, Kengo Kuma.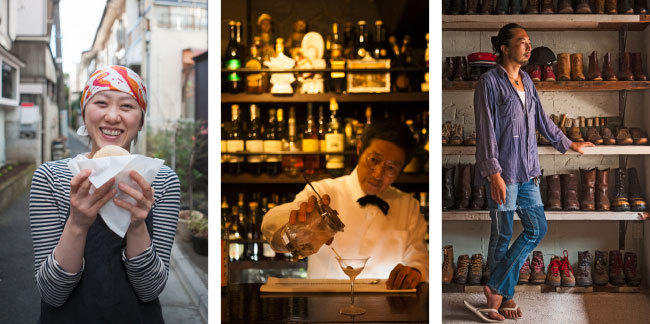 Many of the places are far less well known, however. The Little Nap Coffee Stand near Yoyogi Park is a good example. Barrista Daisuke Hamada observes that coffee shops and parks complement each other: "They are places where people congregate". This chapter, as with the others, is extremely well illustrated with some very fine photography.

But it is more than just a book. People Make Places also offers a handy mobile app, available for now on iOS devices, that is regularly updated. It is an intuitive way to explore Tokyo, whether you are planning a visit to the city or are already here and wondering what to do at the weekend. The app has all the content of the book, plus added functions such as maps linked to Google or Apple. Each location also has a taxi card with the address and directions for cab drivers in Japanese.

What is unique about this publishing project, however, is the concierge service: a membership option. The publishers boast that this is a team of "passionate cultural explorers and experienced travel designers ready to help you discover wonderful people and places across Japan". The service is nationwide and not limited to Tokyo. And there is a very stylish website at peoplemakeplaces.com, too.

This is a seriously beautiful book that would make a fine addition to anyone's library. It is handsomely bound, printed on fine quality paper and the photography is outstanding. The design is crisp and clean and the writing clear and to the point. So what's it all about?