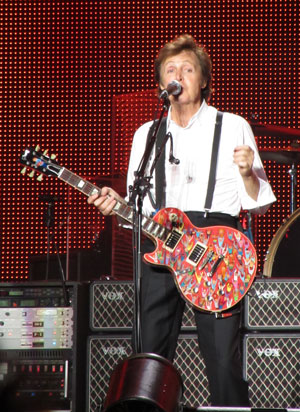 It is a privilege to have been asked by BCCJ ACUMEN to write a column about my radio interviews with British musicians and other celebrities on their visits to Japan. I've had some fascinating conversations over the past 26 years and look forward to sharing some of the best (and not so brilliant) anecdotes from behind the microphone.
In 2013, I had the lucky chance to interview Sir Paul McCartney MBE (page 46) during his Japan tour that year. This was to be a telephone interview (unfortunately not face to face) from the backstage of Tokyo Dome during the sound check on the day of his concert, which coincided with my live afternoon radio programme LHR—London Hit Radio on InterFM.
The day started with a phone call from his manager wanting to check one point—could I speak English? "Yes", I replied, "I do my best". He seemed relieved and mentioned that the previous day in Osaka an interviewer had become somewhat starstruck, completely blanked and just kept saying how amazing it was to be talking to McCartney. Sir Paul didn't get to answer any questions because none were forthcoming. I went into a momentary silent panic wondering if the same might happen to me.
I presume Paul took it all in his stride, but the manager obviously didn't. But once he understood that I could at least get through a phone conversation with him, the manager relaxed. And when I asked my standard pre-interview check of any taboo topics, he said anything goes.
I was on the air live at 2–4pm and was told the phone call could come at any time within the two hours and to be ready. My radio co-host Madoka "Maddie" Kato and I launched into the show with great excitement, telling the listeners we had a radio exclusive with Paul McCartney coming up. The emails and tweets went off the charts, and we were indeed ready to go. And ready, and ready …
By 3:57pm, we had still not heard a peep. Just as we were playing our last song and preparing our goodbye, and an embarrassed apology to the audience, the phone lit up and the manager was on the line.
"We have Paul here for you".
"We now have less than two minutes left on air and the station time call will automatically cut my show off to start the next program from the next door studio", I replied in panic.
"Get in the other studio and I'll call you back on the dot of four", he said.
Maddie and I raced into the next-door studio and hijacked the upcoming programme. The DJ was a gentleman about it all. We were back on the air and ready, the phone lit up one more time and there was Paul McCartney on the other end.
Thankfully, despite the panic, or possibly because of it, I was able to string a few sentences together and host the interview with no major fluff ups. And what did I manage to get out of McCartney that he hadn't already said a thousand times before? This was my real dilemma.
He mentioned how he and his wife Nancy Shevell had been enjoying their time in Japan, going to the sumo, riding bicycles through the park and getting massages. Oh the life of a pop star!
He told me that the song he is most proud of writing is Here, There and Everywhere because of its pleasing structure. Nods also went to Yesterday, The Long And Winding Road, Eleanor Rigby, Fool on the Hill and Blackbird. I wondered what it is like to be a songwriter having music fans essentially reading your private diary? McCartney answered that many of his songs are about fictional characters, and he rather likes the idea of feeling like a novel writer.
I always like to discuss with musicians the power of music and how it has affected their life, not in a professional way, but more profoundly in a personal sense. McCartney said music's "magical sequence of vibrations" has the emotional effect of making us laugh and cry, and just makes humans a whole lot happier.
Being one of the world's most prolific songwriters, where do all of McCartney's music and melodies come from, I asked. Does he have to work at it? He said he is very lucky and, somehow, it all just flows when he sits and plays. In fact, that point triggered my favourite quote from the interview: "We don't work music, we play it".
Inspired by Paul McCartney, I'll never again think of being in the music industry as work.