Earthquake threat should not deter investors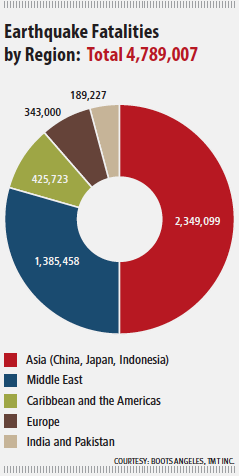 When firms search for the right country in which to invest, many considerations come to the fore: corporate governance, logistics, legal issues, IP protection, security, education, available skills, politics and social stability.
One of the most important factors, however, is the likelihood of natural disasters occurring and, should they do so, the subsequent safety of expatriate staff and accompanying family members.
The tragic events that occurred in Japan on 11 March no doubt will have brought home this issue to firms considering entering or expanding in the Japanese market, so it is worth looking at some hard facts to help them.
On the global scale of natural and man-made disasters and other dangers, earthquakes rank comparatively low. Around the world, floods, cyclones, droughts and heat waves each year claim the lives of many more people than do earthquakes and tsunami, with famine in turn killing 20 times more people than these natural disasters.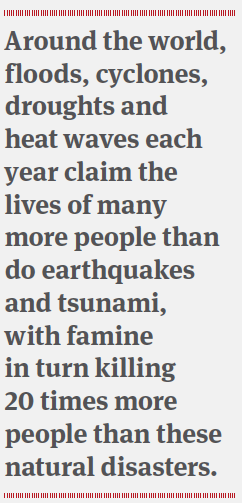 Such extreme weather conditions have cost many of Japan's competing economies badly needed foreign direct investment. The recent flooding in Thailand, for example, has halted production, damaged inventories and seriously harmed infrastructure around the country. And nations prone to war, conflict and instability have long counted the cost not just of human life and livelihoods, but also lost investment.
So, where have the most devastating earthquakes occurred?
Although statistics differ, depending on their source, of the 15 earthquakes (sometimes accompanied by tsunami) that each killed at least 100,000 people, three of the top four occurred in China. The rest were pretty evenly spread over other regions.
Looking at the 55 earthquakes that each reportedly caused the death of more than 10,000 people, 247,766 fatalities were recorded in Japan compared with about 1.87mn in China—making its death toll about 7.5 times higher.
At the other end of the scale, the only continents with no earthquakes recorded as having caused 10,000 or more deaths are Australia and North America, while Africa has been hit just once—in 1960 when Morocco experienced one that cost 15,000 lives.
Some parts of the former Soviet Union, close to the Middle East, have experienced major quakes that have taken a high toll in human lives, yet Russia seems to have been relatively free of such seismic activity. Iran, meanwhile, has suffered more than twice as many earthquake-related fatalities as Japan and, last century, Turkey twice was hit hard, with a total of around 400,000 lives lost in all its quakes.
Europe's last major earthquake, in Italy in 1908, claimed 123,000 lives, about half its total temblor-related fatalities since records were first kept in 1169, and about the same number of such deaths as have been recorded in Japan.
We all remember recorded history's fifth-worst earthquake and tsunami that took place on 26 December, 2004 and reportedly claimed 230,210 victims, mostly throughout the Indian Ocean. Yet India, Pakistan and Bangladesh worry more about cyclones and flooding than earthquakes.
Turning to the Americas, the death toll has been evenly spread around eight countries—Haiti, Peru, Ecuador, Chile, Guatemala, Venezuela, Mexico and Argentina.
When one considers such factors as pollution, crime, convenience, transport, weather, supplies, safety, quality of life, culture, hospitality and—perhaps most importantly—the fact that, in many Asian and other countries, democracy is fragile or non-existent, how can one not choose Japan?
On top of that, Tokyo is arguably the world's most lively and fun place in which to be. I, for one, will stick with Japan despite the threat of radiation.