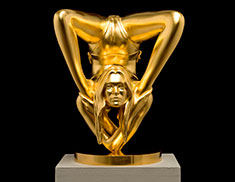 UK Events in Japan
Guess What?
Hardcore Contemporary Art's Truly a World Treasure

20 June–24 August
The selected masterpieces to be shown from Taiwan's Yageo Foundation Collection comprise dozens of modern works by some 40 artists, including British artists Marc Quinn and Peter Doig, and Australian Ron Mueck, who is working in the UK.
The National Museum of Modern Art, Tokyo
3-1 Kitanomaru-koen
Chiyoda-ku, Tokyo
10am–5pm (until 8pm Fridays) closed Mondays and 22 July;
open 21 July
Adults: ¥1,200
» www.momat.go.jp/Honkan/core/index.html
03-5777-8600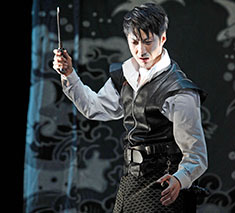 Macbeth
20–27 June
This performance of William Shakespeare's Macbeth will be directed by famous kyogen (comic theatre) actor Mansai Nomura. With only five actors including Mansai, the story follows the original plotlines while delicately portraying each character's emotions. In Japanese.
Setagaya Public Theatre/Theatre Tram
4-1-1 Taishiodo
Setagaya-ku, Tokyo
Various show times
Adults: ¥6,800
http://setagaya-pt.jp/theater_info/2014/06/post_360.html
03-5432-1515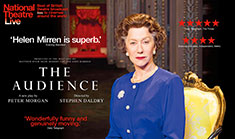 The Audience
27 June–2 July
Helen Mirren reprises her Academy Award-winning role as Queen Elizabeth II in a highly anticipated West End production, which is part of the National Theatre Live initiative. The Audience, a film written by British playwright and screenwriter Peter Morgan, outlines the Queen's relationship and weekly audiences with British prime ministers throughout her reign.
TOHO Cinemas Nihonbashi (among other locations)
COREDO Muromachi 2-3F
2-3-1 Nihonbashi Muromachi
Chuo-ku, Tokyo
Various show times
Adults: from ¥2,500
»www.ntlive.jp/program.html
0570-02-9111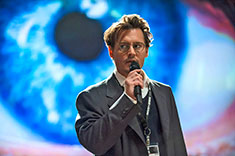 Transcendence
From 28 June
British actor Rebecca Hall stars alongside lead Johnny Depp as his wife in this science fiction film. Depp plays a scientist searching for artificial intelligence, whose own consciousness is uploaded to a super computer, with dangerous consequences. Paul Bettany from London plays the role of Depp's friend in the film.
Marunouchi Piccadilly (among other locations)
Yurakucho Marion 9F
2-5-1 Yurakucho
Chiyoda-ku, Tokyo
Various show times
Adults: ¥1,800
» http://transcendence.jp/
03-5521-8048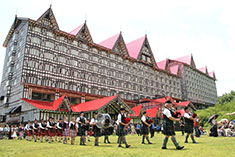 Japan×Scotland Festival 2014 in Hakuba
5–6 July
This free event, in its seventh year, offers the chance to experience authentic Scottish culture abroad. Not only can you enjoy watching a variety of performances, including bagpipes, highland dance and wadaiko (Japanese drumming), but you can also participate in some activities.
Hotel Green Plaza Hakuba
12860-1 Chikuniotsu
Otarimura, Kita-Azumi-gun, Nagano
» www.facebook.com/japaxsuko
0570-097-489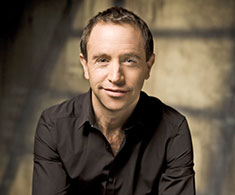 Tokyo Symphony Orchestra
5–6 July
Conductor Mark Wigglesworth was born in Sussex, England, and studied music at Manchester University. In 1992 he became assistant conductor of the BBC Symphony Orchestra and is now working for the Royal Academy of Music in London. The orchestra will present Piano Concerto No.2 in A major S.125 by Franz Liszt and the Henk de Vlieger arrangement of Richard Wagner's Der Ring des Nibelungen.
5 July: 6pm
Suntory Hall
1-13-1 Akasaka
Minato-ku, Tokyo
6 July: 2pm
Muza Kawasaki Symphony Hall
1310 Omiyacho
Saiwai-ku, Kawasaki, Kanagawa
Adults: from ¥2,000
» http://tokyosymphony.jp/pc/concerts/list?p_concertSeasonId=rgLaaw53RgI%3D&month=07
044-520-1511