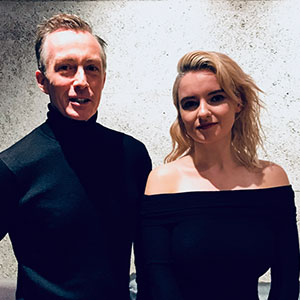 If you could meet any classical music composer, living or departed, with whom would you like to have a conversation? When I pitched this question to Grace Chatto of British band Clean Bandit, she pondered thoughtfully and answered Mozart and Bach. I asked because Clean Bandit initially made their mark by fusing contemporary electronic pop music with classical music elements—including cello played by the Royal Academy of Music-trained Chatto.
I was curious if she had wondered what these composers would think of the Clean Bandit concept. "I think Mozart would probably love it", she said with a laugh, "because he had such a sense of humour. But Bach I think would be really interested in electronic music in general".
Going live
I met up with Chatto in January, and she was delighted to be back in Tokyo, for which she has had a soft spot since first visiting on holiday more than 10 years ago. She's returned a number of times with Clean Bandit, who shot the video for their hit Rather Be guerrilla-style on Tokyo's streets, trains and Tsukiji fish market.
The band formed in 2008 when Chatto met violinist Neil Amin-Smith and brothers Jack and Luke Patterson while studying at Jesus College, the University of Cambridge. As Chatto recalled, "This all started very much as a live project. For the first few years we didn't really record anything, we were just putting on our own live shows around London and Cambridge".
The group's breakout single Mozart's House—a danceable tune with electronic blips and beeps, thumping bass, a distinctly British-style rap vocal and part of Mozart's String Quartet No. 21—was recorded in 2011. When re-released in 2013, it reached number 17 on the UK singles chart. The video for the single featured Chatto in underwear with a violin across her naked chest, which led to her being fired for indecency from a school where she taught cello to young students.
The struggle of being a starving artist did not last too long, however. Since then, Clean Bandit has had a string of hits globally and sold more than 13m singles and over 1mn albums.
Hitting the right note
The core members of Clean Bandit are not singers, so for all of their hits they have recruited guest vocalists, including English singers Jess Glynne and Anne-Marie, as well as Zara Larsson from Sweden, Julia Michaels from the United States and Jamaican rapper Sean Paul.
I asked Chatto how they select those with whom they want to work. "It's different every time. Zara Larsson we pounced on after we saw her performing at a festival in London. I just thought, 'Wow, her attitude and her voice would be perfect for Symphony', which we'd just finished. She liked it, came in, it was very quick, she sang it a couple of times and it was brilliant".
Meeting Larsson solved another problem faced by bands with songs but no singer. "Then we ended up doing a big tour with her across America". For live concerts, Clean Bandit always has to find a vocalist who is suitable and available.
Does Chatto have a wish list of whom she'd like to work with? "Lana Del Rey is someone I would love to do something with. Bruno Mars … but these people are very difficult to contact!" she admitted with a laugh.
One person who is difficult to contact but has recently been collaborating with Clean Bandit is Elton John. "We have got together with him a couple of times in the studio and made a couple of songs, but neither of them are finished yet, so I don't know exactly what's going to happen with them. But it was such an incredible experience to meet him and write with him and see his creative process. He just has a constant flow of musical ideas and jokes at the same time!"
Back to the classics
We finished our conversation by getting back to classical music, with Chatto admitting the direction of Clean Bandit has shifted over time.
"I've always loved classical music and pop music, so it's the perfect thing to be able to do both. I think when we started it was much more about mixing the two together, and for me that was a very exciting new thing, but recently we've allowed the classical side to slip away a bit. We still use the acoustic cello and violins in the music, but we don't really call upon classical music in the mix. I'd be interested in doing more of that".
I certainly hope so because their unique sound is what made Clean Bandit stand out in the noisy world of pop music. I would like to hear more of this fusion, all the while pondering what Mozart or Bach would make of it.