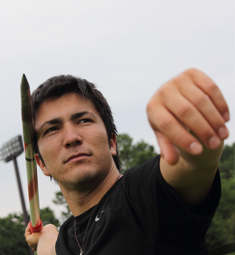 Bicultural javelin thrower fielding a media frenzy
Genki Dean is quickly discovering the minor drawbacks to being one of Japan's most sought-after Olympic athletes. Two days after he trained in the pouring rain in front of 80 Japanese reporters, cameramen and photographers, the 20-year-old javelin thrower is nursing a fever and a rasping cough.
That doesn't stop him from greeting BCCJ ACUMEN with a wide smile, a predictably firm handshake and a few words that suggest he's happy to proceed in English, although our arrangements to meet were all made in Japanese.
Dean, who has a Japanese mother and British father, burst onto Japan's track and field scene in 2010 when, as a relative unknown, he won the silver medal at the World Junior Championships. This April he recorded the second-longest throw by a Japanese national with an 84.28-m effort.
But it was with the 84.03-m throw at the Japan National Athletics Championships in Osaka in June that Dean sealed his biggest prize yet: a place in Japan's track and field team at the London 2012 Summer Olympics.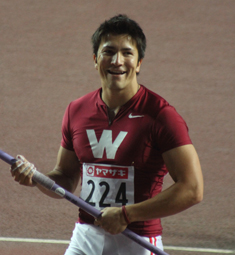 As a bonus, the throw set a record for the championships, ending the 12-year domination by his friend, rival and fellow London competitor, Yukifumi Murakami.
For Dean, Olympic qualification is the realisation of a boyhood dream. "I'm very happy", he said. "I can now repay my parents for all the help they have given me to get this far. Ever since I took up the javelin, I haven't stopped thinking about how I wanted to take part in the Olympics".
He first picked up the javelin as a 15-year-old in his first year in senior school and immediately displayed a natural talent for the sport. He was throwing well over 60m in his mid-teens and, aged 20, recently surpassed 2009 World Championship bronze medallist Murakami as Japan's best javelin thrower.
It is easy to see why Dean has created such a frenzy among the local media. He is photogenic, approachable and given to celebrating successful throws with a grin and gestures directed at friends, family and his growing army of fans in the stands.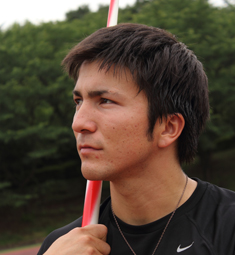 Although his father is originally from Chester-le-Street in County Durham, northeast England, Dean was born and raised in Japan. He attended middle and senior school in Amagasaki, near Kobe—where his parents now live—before studying for a degree in sports science at Waseda University's Tokorozawa campus.
He has made more than 10 trips to the UK, but has had to sacrifice summer travel to concentrate on training and the frenetic rounds of athletics meets. "I've never lived in England, but I like it there", he says. "I really like Chester-le-Street and Newcastle".
Dean counts Japanese as his mother tongue, but he conducts the ACUMEN interview with ease.
Until recently, Dean divided his time between training and studying. Now, he admits, he is having to acquire a new skill: handling the media.
So far, he is taking the extra attention in his stride. "I'm surprised by all the media attention … I've never seen anything like it", he said. "Everything is changing fast, so I just have to keep my feet on the ground".
Dean believes he can qualify for the final, but concedes he will have to produce something extraordinary to make the top three.
"Winning a medal is not impossible, though. At first I felt under pressure when asked about medals, but I think I've learned to deal with it. All I can do is concentrate on my training".
At 1.8m in height and weighing 88kg, he is smaller than many of his international opponents. Despite wanting to increase his bulk, while in London, he may want to steer clear of the fish and chips—"greasy, but delicious"—he remembers fondly from previous visits to England, and stick to his usual diet of rice, grilled chicken and fish, as well as his favourite fruit, pineapple and oranges.