August was a month of finalising planning for the onslaught of events triggered by the Rugby World Cup, which starts this month, saying farewell to colleagues and some travels around Japan.
Hiroshima and Nagasaki memorials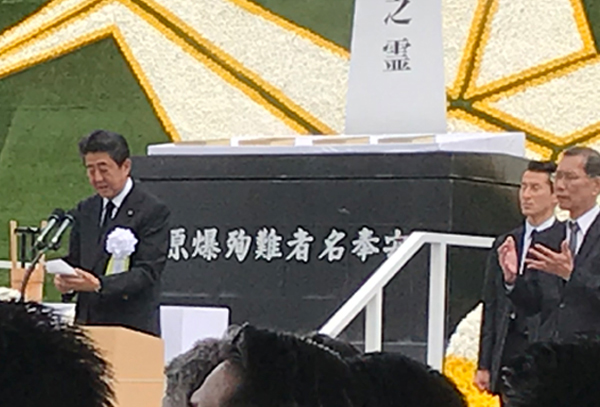 It is always deeply moving to attend the annual Peace Memorial Ceremonies in Hiroshima on 6 August and Nagasaki on 9 August in the company of other Ambassadors and Japanese Prime Minister Shinzo Abe (above), as well as many national and local dignitaries, and with impressive performances by local children's choirs. We had dinner with a hibakusha, an atomic bomb victim, who had been just a few weeks old when the bomb fell. In an interview with local media, I noted that the UK had halved its stocks of nuclear arms since the end of the Cold War.
En route to west Japan, we stopped in Okayama to visit the beautiful "Art Island" of Naoshima in the Inland Sea, with its stunning museums and artist communities, and also Kurashiki, with its well-preserved canal district.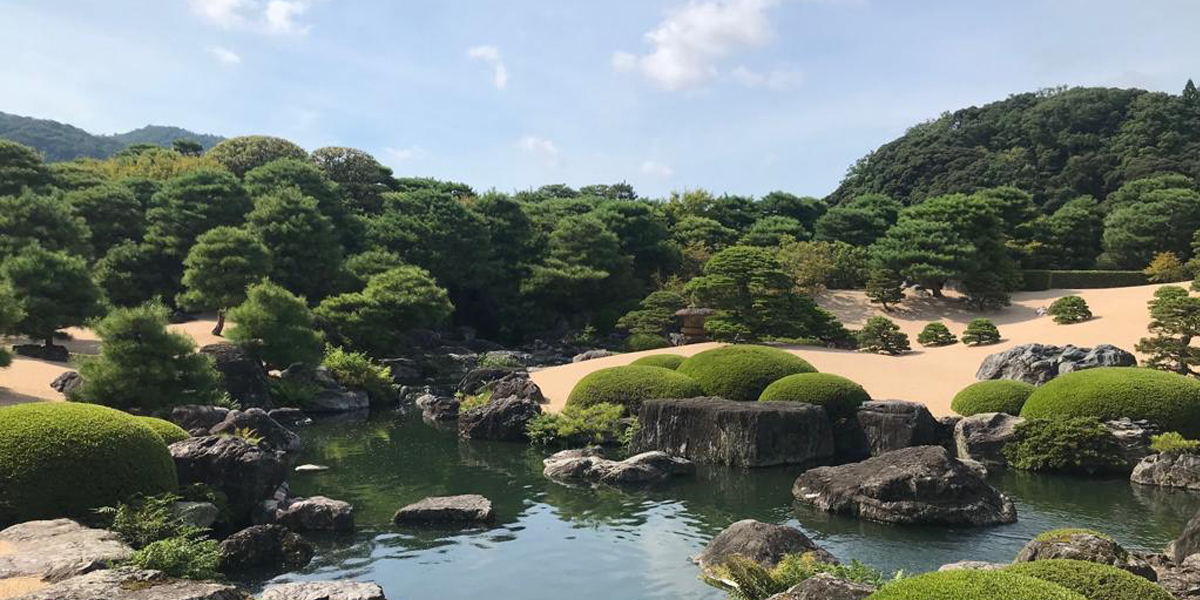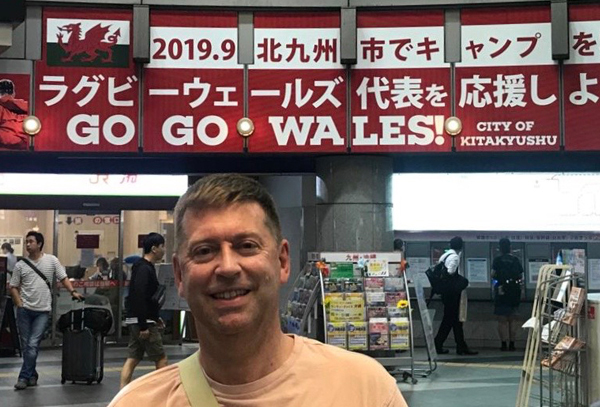 As we passed through Kokura Station in Kitakyushu, where the Welsh Rugby Team will have their camp, we were very impressed to see massive posters saying "Go Go Wales". On the way back, we had a weekend in Matsue, Shimane Prefecture visiting the impressive museum to writer Lafcadio Hearn in the samurai quarter nestling under the famous "black castle" (though, frankly, it looked grey to me) and the Adachi Museum, with its prize-winning garden.
The summer is a time when a number of staff turn over, and I took my Defence Attaché, Captain Paul Casson RN, for a farewell call on Japanese Defence Minister Takeshi Iwaya, and to introduce his successor, Captain Simon Staley RN. The past three years have been a very busy period for our Defence Section, with a significant step-up in the number of ship visits and other security collaborations. Simon has served in Japan before, on attach­ment to the Japan Maritime Self-Defense Force at Yokosuka, so he will hit the ground running.
Prison visits
One of the less well-known roles of our consular team at the Embassy is regular visits to British citizens in Japanese prisons. Fortunately, there are only a small number, about 25, with a further 10 in detention pending investiga­tion or trial, mostly incarcerated for drug offences. Our staff provide a vital life­line for links with families back in the UK and checking up on prisoners' health and conditions. I decided to accompany consular colleagues on a visit to Fuchu Prison, where I met the Governor and officials from the Ministry of Justice, with whom we have an excellent relation­ship, as well as a British inmate, and toured the facilities. It was very clean and efficient, but some­what spartan, with stricter rules than in the UK. My message to British visitors, including all those rugby fans, is please don't get on the wrong side of Japanese laws.
Fellow ACUMEN columnist Guy Perryman (page 42) invited me onto his InterFM897 radio show to chat and choose some of my favourite songs. My first choice was David Bowie's "Starman", linked to one of my earliest encounters with Japan as a teenager: I recall hearing it for the first time on my brand-new Sony transistor radio, which I had just received for my 13th birthday. I chose all British artists, and a song from each of the past five decades. Fortunately, thanks to Spotify, I can now access music from my kids' generation.
Education ties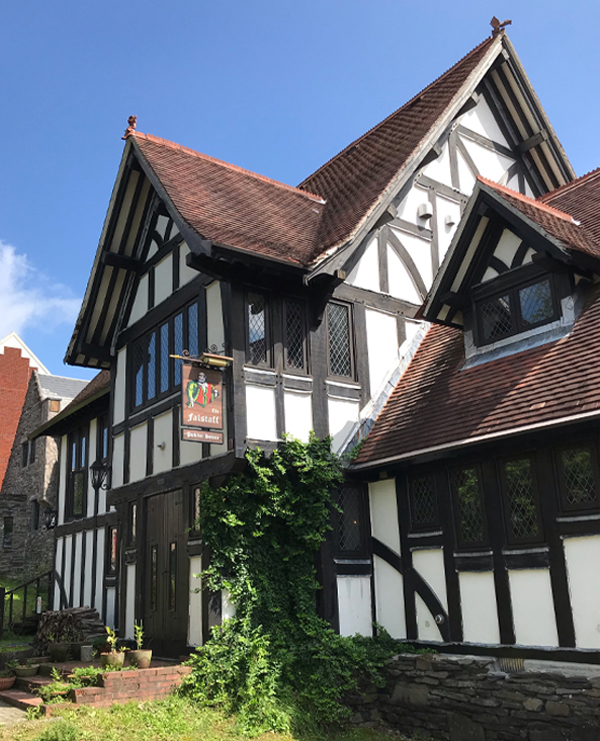 Tucked in the beautiful foothills of Fukushima is British Hills, an impressively attractive recreation of a British village, with castle, pub and half-timbered houses. It's a hotel and educational facility where junior high and high school students get the chance for "an overseas experience inside Japan". The teachers and many of the hotel staff are from the UK and Commonwealth countries, and there is a big focus on getting the children away from their grammar books and actually speaking English. We very much enjoyed sessions interacting with students from five schools.
The University of Tokyo asked me to give a lecture on their Executive Management Programme, which aims to broaden the experiences of fast track middle managers from the private and public sectors by exposing them to a range of speakers and topics. I talked about the similarities and differences between Britain and Japan, which flowed from both of us being shimaguni (island nations).
A busy autumn
With several G20 ministerial meetings still remaining, at the end of August Japan also hosted the 7th Tokyo International Conference on African Development (TICAD) in Yokohama. At the opening reception, I watched Prime Minister Abe welcome heads of state and government from 42 African nations. Our two prime ministers agreed in January that we would work more closely together in Africa on infrastructure development, bringing together our aid and trade ministries and business.
On 17 September we will formally launch the year of UK in Japan 2019–20, GREAT for partnership (page 18). Running from the Rugby World Cup 2019 through to the Tokyo 2020 Olympic and Paralympic Games, it will include a series of GREAT weeks promoting business and technology in key sectors relating to the grand challenges, such as climate change, ageing societies and the future of mobility, set out in the UK's industrial strategy. We will also have British food and drink promotions in various rugby host cities and a major cultural season, devised by the British Council's fantastic Japan Director Matt Burney, who has sadly just moved on to head up the Council's China operation. We will greatly miss Matt. It has now been announced that HRH Prince Charles, the Prince of Wales, will attend the Emperor's enthronement ceremonies in October. We are in for a very busy autumn.
---