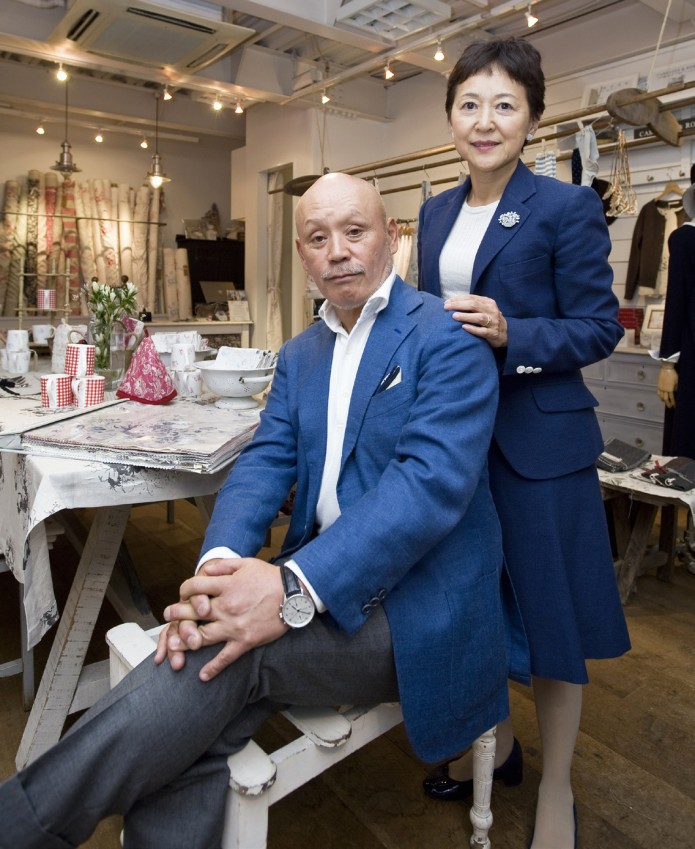 Founded in 1988, Innocent Inc. initially focused on importing and selling European antiques, clothes and lifestyle items.
With 60 NIMES outlets across Japan and 250 staff, that business has been performing well—but founder and owner Hisa Tsuchida and director Nori Sakaue have long held a particular passion for British style, design and taste. The first outlet of growing British brand Cabbages & Roses opened in Tokyo's swish Daikanyama district in March, while the second store will open in the Yurakucho Lumine department store by the end of October, and plans are under way for a Shibuya shop in April.
Where did Innocent Inc. come from?
Tsuchida: I worked for a traditional menswear firm for six years, so my grounding was in fashion, but I wanted to be able to offer a much broader range of items. Fashion is a part of what Innocent does, but we bring that together with lifestyle products to provide a complete package.
Sakaue: We started out making traditional French-style T-shirts with coloured hoops. We found the thick, rough fabrics for these shirts in a French market and asked a Japanese firm to make them, but they couldn't because they were not used to working with material that Japanese clothes manufacturers consider too rough. So we had to find our own machinery and an expert who knew how to operate it, and began making our own material. It took us three years to create this line because we were starting from scratch, but they became our initial major success. At first, they were popular with young, fashion-conscious people, but now they sell across all age groups.
Why did you shift focus to more British styles and products?
Sakaue: We opened our own brand shop NIMES in Daikanyama in 1993, selling women's wear and lifestyle goods but, even before then, we had had a long-standing love of British style and had begun collecting items, piece by piece, to decorate our shops and offices.
Tsuchida: We started out with a French flavour to our products, but quickly learned that most Japanese people associate antiques and quality traditional goods with Britain. From the beginning, Cabbages & Roses was very easy to work with because it is so close to how we feel. When we set up our first shop in 1993, we realised that people were fed up with only having shops selling solely fashion, or furniture or household goods. We had seen places in London—such as the Conran Shop—that brought all those things together, and we, too, wanted to mix fashion with lifestyle products.
Why do the Japanese admire English style?
Tsuchida: English people know how to enjoy everyday life in a traditional way; they love things such as gardening and afternoon tea. We are also trying to share our admiration for British lifestyles with Japanese people. I think the English have a lifestyle that appeals to Japanese. British people love old, traditional things, such as antique furniture and old-fashioned fabric prints, and we have brought a lot of those items here—which makes us love Britain even more.
Do younger Japanese people share that interest in Britain?
Tsuchida: The news we usually see from Britain is about the royal family and the Beatles, and that's good for older people. But young people here want to know about the everyday lives of those their own age. They want to know what their lives are like, who the young people of London are today. A customer doesn't have to spend a lot of money in one of our shops; but I do want them to catch a glimpse of what day-to-day life is like in Britain.
Sakaue: I actually prefer selling to younger people, as older customers want their tables with gold-coloured legs that end in a lion's paw. We hate that and much prefer the more modern industrial look. In England, such furniture may not be considered antique and certainly older people here don't like it very much. But our main customers are cafés, hair salons and the owners of other shops who are looking to decorate their premises.
What image of England do Japanese people have now?
Tsuchida: Good manners, gentlemanly, loyal and respectful. The Japanese find that, compared with people from other European countries, the English are easier to feel close to and trust. They are always respectful of other people and traditions—and have preserved traditions such as the English breakfast.
How did this business relationship arise?
Sakaue: Kate Strutt, daughter of founder Christina Strutt, contacted us because they were looking for a partner in the Asian market. At that time, we were focusing our efforts on French styles, but then I was in London for two months and went to talk with the Strutts and heard their plans. They had never been here, and a company does need specialist knowledge to operate in the Japanese market. Many Japanese firms had contacted them to try to set up a business and be their partners, but when we spoke with them, we explained how the market works here.
Tsuchida: Other trading firms had talked with Cabbages & Roses and were telling them that they expected to have so much in sales after such and such period of time, but we are a very small company and didn't want to tell them that. We did it very slowly, step by step, and they agreed with us. It's very important for us because we are both family businesses.
Which other British firms do you work with?
Sakaue: We work with Robert Mackie knitwear in Scotland, which makes scarves and gloves for us. Our deal enabled them to find a new buyer and they are still going strong. We have also started working with a young couple with a small shop in Soho called Pokit. They make custom-made leather bags, tailor-made suits and clothing, often using Irish linen. I was a customer when I was in London and that's how I met them.
How have you expanded?
Sakaue: By accident. We meet someone who shares the same ideas and values as us; we talk, shake hands and that is the start. We've never gone searching for a new partner and we have always started as friends with the same beliefs. Look at Pokit; I only found out about them when I went into their shop for the first time. Now they are coming to Japan in November and we're looking at an agreement on their new brand Claire & Bayode.
Tsuchida: From Japan, it is possible to work with companies in a lot of European countries—England, France, Italy—but we have found that England is the most international nation to work with. It is home to a lot of people from many countries now. It means there are a lot more possibilities in England than in other countries.
Sakaue: The "Made in England" label is still a good selling point when attached to shoes, bags and fabrics. We are very strict about the quality of the goods we sell, even though sometimes that makes them expensive to bring to Japan.
Would you say that you have a philosophy for your shops?
Tsuchida: Many companies try to make a brand bigger and make it appeal to everyone, from 20-year-olds to older people. We don't take that approach, as we want to make sure that we stay true to the tastes and standards of the original.
Sakaue: At our shops, we decorate small spaces and educate customers in how to design their own rooms. We tell them they don't need plastic, because they can use traditionally designed and made goods. People learn from our shop—and they also learn that it doesn't have to be too expensive. We are constantly trying to educate people, for example by showing them that they do not need to buy new clothes every season because, if they take care of something and it is of good quality, it will last a long time. That helps to encourage them to come back again and again.