Kyoto-based northerner John Dougill has lived in Japan for more than 20 years while cultivating an expansive, successful career as an academic and author. BCCJ ACUMEN asked him about his adopted home and the many projects he has worked on.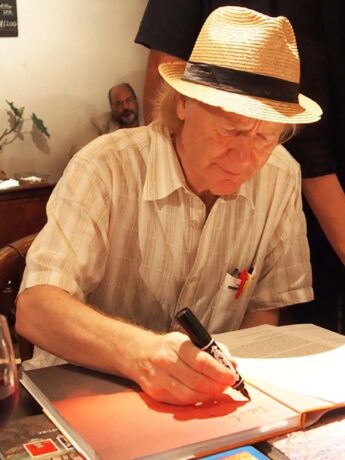 Please tell us about the UK community in Kyoto. Is it diverse, tightly knit, spread out and growing? Where are the most popular places in which Brits gather?
While I have heard of an informal grouping of UK friends in Kyoto, I would say the feeling is more of a wider foreign community. This can be seen at British pubs—notably Hub and the Pig and Whistle—where, as well as Japanese, there are native speakers of English from the US, Canada, Australia, Ireland, New Zealand and other places. Personally, I find this international mix to be an attraction of the expatriate life in the city.
You are the founder of Writers in Kyoto; please tell us about that and your other work.
In the UK I belonged to a group called Writers in Oxford, which put on social events and provided information about publishing-related matters. I wanted to do something similar in Kyoto, with its large number of academics and arty types. So, nearly eight years ago, we started with a group of six sat around a table. Now we have 70 members, comprising writers of all kinds, from journalists to bloggers, from the self-published to the traditionally published.
Membership costs just ¥3,000, in return for which we run a busy website, host two Facebook pages, organise social events, put on talks, hold an annual competition and produce anthologies. Amongst the highlights have been talks by Justin McCurry of The Guardian and Richard Lloyd Parry of The Times.
And your past before Japan?
Before coming to Japan I had a different life entirely. I worked for three years in the Middle East teaching English, travelled overland around the world for 10 months, and worked in English as a foreign language in Oxford, during which time I stood for the city council as a Green Party representative. I still have one foot in Oxford, so to speak, and return every summer.
What attracts you and other Brits to Kyoto?
Simply that it is the cultural heart of Japan. In addition, it has a lively social scene maintained by the high proportion of youth, Kyoto having the largest number of tertiary institutions outside Tokyo. There are 17 World Heritage Sites, and it is undoubtedly one of the world's great cities, boasting art, the tea ceremony, gardens, head temples, ancient shrines, green hills, geisha, Noh, the romance of Heian Era Kyoto and a former imperial park. Yet for all that, it remains a city you can cycle around.
Tell us about the books you wrote.
I have written 25 books, of which six are about Japan. Two have won a wider fame. Kyoto, A Cultural History is the only book of its kind and is used on MA courses. Japan's World Heritage Sites is a coffee table book, thick and heavily illustrated, which has sold well. The research was rewarding, as it involved travelling the length of Japan, from Shiretoko in Hokkaido to the Ryukyu castles of Okinawa and the unique nature of the Ogasawara island chain.
I'd also like to mention Kyoto, A Literary Guide. Six of us collaborated closely to produce the first selection of original translations about Kyoto, a feat we accomplished without falling out with each other. Anyone familiar with the ambiguities and alternative readings of Japanese verse will know how difficult that is.
Anything else you'd like to tell us?
It is impossible to write of the city at the moment without commenting on the great contrast between empty Kyoto and the Kyoto of mass tourism. The dramatic cessation of tourism has meant that, for the first time in decades, it is possible to visit major sights without being overwhelmed by crowds. I recently visited the Golden Pavilion, a Zen temple in northern Kyoto, and there were only two other people there. Of course those in the tourist trade are suffering and want a quick return to tourist activity, but the hope is that, this time, the tourism will be better regulated, so that there is less friction and less "tourist pollution".