Sir Bobby invites young Japanese to bend it like Beckham
One of the UK's oldest and best known football schools, the Bobby Charlton Soccer and Sports Academy (BCSSA), recently visited Japan to set up a coaching programme with an English-language school and to forge links with local football clubs.
The BCSSA was founded by Sir Bobby Charlton—member of England's 1966 World Cup winning team and still its top goal-scorer. After returning from the 1978 FIFA World Cup Argentina—where he had been commentating for the BBC—Sir Bobby came to the conclusion that there was a big gap between schoolboy football and professional clubs' youth teams. To help fill that void, he set about establishing the BCSSA to bring quality coaching to children.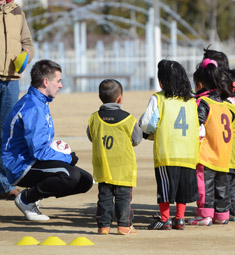 The school's most famous graduate is a certain D. Beckham, who won the BCSSA World Skills competition in the mid 1980s. It was Sir Bobby who then gave Beckham's name to Manchester United, taking the promising youngster under his wing. More recent attendees include Bolton Wanderers' Marcos Alonso, who visited the BCSSA's residential summer courses while a junior at Spanish giant Real Madrid.
However, not all of the thousands of children who have been through the school's courses are aiming to be global soccer superstars. Many simply love football and the chance to play it while mixing with people from other countries.
The latest venture for the Manchester-based BCSSA is a tie-up with the Anglo Culture Center (ACC), a group of nine English-conversation schools in Hekinan City, Aichi Prefecture.  Two BCSSA coaches have come to Japan for a year to teach football through English to local children from kindergarten age up, with a view to extending the programme in the future.
"People are always approaching us with proposals, and we have done some similar work in Egypt and Malta, but we have a very special brand and have to be confident that the people we work with share our values", said Geraldine Shiels, managing director of BCSSA, who was in Japan to establish the programme.
"The two Bobby Charlton coaches will take up to three sessions each afternoon, Monday to Friday. With a maximum of 16 children in each group, there is the possibility of nearly 500 children a week learning English as they enjoy their soccer coaching", said Shiels.
During the initial demonstration sessions, BCSSA head coach Ciaran Donnelly was impressed by the local children's willingness to listen and learn, despite the language issue.
"In the UK, the children play all day everyday, and so sometimes think they know it all when attending coaching sessions. I found the Japanese children absorbed and copied every detail of what was being explained to them, and this made them very coachable", said Donnelly.
"As English was the only language the coaches used during the sessions, I thought that might pose a problem for some of the youngsters, but after a few repetitions of the words or phrases, they were responding as if English was their first language".
Having ensured the two coaches were settled in their new Hekinan home and the programme was ready to roll, Shiels and Donnelly headed for Tokyo to spread the gospel of "Bobbies". First stop was the British Football Academy Tokyo, where they visited a children's training session, accompanied by senior coach and Managing Director Sid Lloyd.
BCSSA representatives also held presentations on the organisation's summer residential course in Manchester at the Yokohama Country and Athletic Club and a Japanese cram school operator, as well as visiting training sessions for the J-League team Urawa Reds.
Forthcoming for Bobbies in Japan is a trip to the summer course in Manchester accompanied by bilingual staff. The next budding Beckham or Honda may be on that plane.