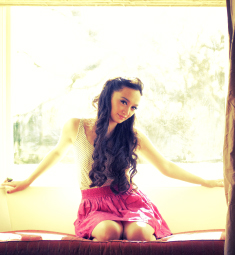 Violin prodigy sets stage for next chapter in her colourful life
Susanne Bayly was pregnant with Diana Yukawa on 12 August 1985, when Japan Airlines flight 123 from Haneda International Airport to Osaka crashed into Mt Osutaka in Gunma Prefecture. Diana's father Akihisa was among the 520 people who did not survive the worst single-aircraft crash in history.
Anglo-Japanese Diana has since blossomed into a solo violin prodigy, now working on a new project with John Foxx, the former front man for Ultravox, and experimental electronic band Benge.
This is a shift in her attention, after the 26-year-old received huge acclaim for three albums, including her 2000 debut, La Campanella, which was an immediate No 1 bestseller when she was just 15 years old.
Her second album, Concerto, again featured classical pieces, but 2009's The Butterfly Effect was a clear expression of her own original sound and demonstrated that the young musician was not afraid to experiment. And so it is with this latest project.
"We all come from different musical backgrounds, so it's wonderful to see how the different influences are merging together and to hear the music that is being created", she told BCCJ ACUMEN.
"It has been a very different way of working and we've invented our own methods of writing and recording, which has been a really interesting process".
Yukawa's latest compositions include City of Shadows and My Way Home, and can be heard through her website.
"Musically, it is quite different from what I am doing with my solo work, so I can't wait for people to hear what we have done together when we release the album", she said.
The sadness that followed the plane crash was felt for a long time. As Yukawa's parents were not married, it was 24 years before Japanese authorities would add her name to the family register.
In the intervening years, there was acrimony between Bayly and Akihisa's sons; things became so serious that the family home in Wimbledon, London was mortgaged to raise money for a violin, which had to be sold later to ease the family's financial problems.
After battling through the tough times, Diana has her eyes firmly set on the next stage in a career that is already impressive.
She performed at the 2012 New Year's Concert at the Burj Khalifa, in front of 100,000 people at the Dubai World Cup race earlier this year, and at a sold-out Hollywood Bowl.
Next on her hectic schedule was her appearance in late May at the Tivoli Festival, the largest classical music festival in Scandinavia.
"At the moment, I'm in a place with my music where I really feel I'm at the beginning of my new sound", she said. "It has been a long journey and my last album was most certainly part of that process, but I now believe the music I am creating is a true reflection of what I want to say and who I am as an artist at this moment".
And although she says she is excited at the latest collaboration with John Foxx and Benge, she says her solo work remains special because it comes from such a "personal place".
Equally, thoughts of her father have had an impact on her songwriting.
"Just as every person, and everything that happens in my life, contributes towards what inspires me to write music, thoughts of my father are, of course, also a very important part", she said.
"I always say that, through my music, I have learnt many things about my father and felt closer to him in ways I never thought could be possible", she added. "It was certainly not my intention to feel connected to him through music—so I am extremely grateful for that gift.
"We may not have been able to meet in this lifetime, but I always feel my father is not too far away, guiding and watching over me".
In previous years, she has visited Mt Osutaka on the anniversary of her father's death, performing pieces that she has composed in his memory. This year, however, she was unable to make it because of her hectic schedule.
"Ideally, I'd like to visit Japan without many work commitments and just spend time in my homeland travelling and having quality time there as that's something I've never been able to experience", she said.
"I would also like to climb Osutaka-yama at a time other than the anniversary, as I have never really been able to have that personal experience in private", she explained. "I hope to be able to go back soon and create a more permanent memorial there".