Popular for tourists in Tokyo's uber-trendy Minami Aoyama, Minato-ku, is the Herzog & de Meuron Prada building—a glass-lozenge mecca for fashionistas that has graced travel and style journals since 2003.
Art fans now also have an excellent reason to visit the area — just a two-minute walk away at the new Nezu Museum, which opened in October 2009.
Kaichiro Nezu; a former president of Tobu Railway, began the original collection, a recurrent theme of which is tea. The collection brings together some of the most exquisite items from China, Korea, Southeast Asia and Japan — such as Ming (1368–1644) water pots and bamboo teaspoons with names such as "two quiet people".
Five dishes by Kenzan Ogata, Japan's most celebrated ceramist, show how modern 18th century Japanese ceramics can be, while ancient Chinese and Indian silks for wrapping tea bowls decorate the area upstairs.
Many fans were sad when the old building with its classic kura storehouses was demolished in 2007. But its replacement, designed by architect Kengo Kuma, is a wonderful modern adaptation. The discrete bamboo-lined entrance path draws you in, and you suddenly find yourself looking out — with the museum above and around you — through a two-storey wall of glass onto the garden.
Nezu has a 20,000m2 oasis of classic gardens; a wooded valley, studded with four tea rooms; a lake; innumerable lanterns and statues; and a maze of paths and corners suitable for adults and children. With Japan's four distinct seasons, the fresh colours vary: rich reds in November and December, purple iris in May, and, naturally, the cherry blossom in April.
Climb back up out of the garden to look up at the high, temple-like roofs of the museum rising above to see how well Nezu has mixed the classic and the contemporary.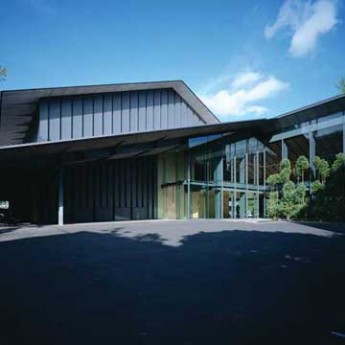 A small glass-sided café set into the wood offers limited but tasty lunches, cakes and drinks (including, on our visit, an English-style meat pie). Sadly, the café has no outdoor seating, which rather hermetically seals you off from the Nezu atmosphere; and despite the prices, our service left a great deal to be desired.
A shop sells a very good selection of postcards and gifts, but offers only a few books for those who don't read Japanese; similarly, there is little written guidance throughout the museum.
Rotating exhibits until September 2010 will show some of Nezu's finest 7,000 pieces, including seven National Treasures of Japan and 87 Important Cultural Properties. Korin Ogata's "Irises" on gold foil screens — perhaps Nezu's most famous piece — will be displayed in April and May. "Ceramics: Fun and Functional", which runs until 28 February, includes fabrics for wrapping tea implements.
Nezu Museum
Eight-minute walk from Omotesando Station, A5 exit
Adults ¥1,200; students ¥1,000; free for middle school children and younger
10am-5pm, closed Mondays
www.nezu-muse.or.jp
03-3400-2536