The secret of a great bar or restaurant—to which people want to return time and time again—according to John Watkins, is creating a relaxed and comfortable atmosphere, providing a wide selection of reasonably priced food and drinks, and leaving the music selection to the younger members of staff.
And, after nearly three decades in the trade here, the owner of The Tavern knows what he is saying.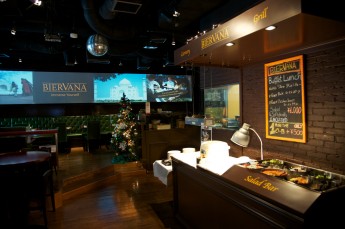 Since the first incarnation of the British-style drinking establishment opened in Chinatown in 1984, The Tavern has become a home-away-from-home for expats in Yokohama, as well as a hangout for Japanese wanting an authentic pub experience. But recently, Watkins has taken on a whole new project—at BierVana.
"I first came to Japan in 1981 as a photographer on a cruise ship that docked in Yokohama, and decided that I wanted to stay for a little while", said 55-year-old Watkins, who is originally from Bristol.
"I really liked the place, made lots of friends and stayed six months", he said. "Clearly I was enjoying myself too much, as I decided to stay another six months. And here I am, 30 years later".
At that time, there was only one English or Irish-style pub in Tokyo, and Watkins soon found himself tired of traipsing up to Yotsuya each time he wanted a pint of good ale or some traditional British fare.
His solution was to open a pub, in Chinatown. This was followed by a second bar, also called The Tavern, close to the west exit of Yokohama Station.
"You need to have lots of personality, an endless supply of jokes and the skill to communicate with people on every level", Watkins explained. "It's business common sense that you need to create a place where people want to come.
"I have always been a huge fan of pubs: the atmosphere, the lighting, the food, the drink, meeting people. But I also know that you can't force your tastes on other people, so I generally leave the music to the staff".
Out looking for a new challenge, in October Watkins became involved with BierVana, located on the ground floor of the Prudential Tower, close to Tokyo's Akasaka-mitsuke Station. One of the biggest changes that he brought in is the hugely popular carvery.
"Our clientele is made up of expats, who live in the area, and people who work nearby", he said. "We get a lot of office workers here during the day for the buffet lunch; they see what we have done to the place and they will come back in the evening as well".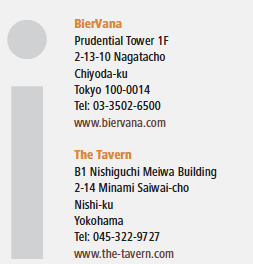 For the after-work crowd, one of the key attractions is a selection of 100 bottled beers from around the world, and 10 on draft—including the Scottish real ale Seven Giraffes, which Watkins describes as "dangerously good".
The roast beef with all the trimmings is the most popular item on the menu, served with piping hot vegetables, but Japanese diners have also come around to roast lamb, Watkins said.
BierVana seats up to 70 diners, but can host parties of as many as 150 people, and Watkins is also planning to start providing takeaway lunches to meet the strong demand.
Another innovation on the drawing board is the introduction of an afternoon wine and cheese set for anyone who prefers business meetings in a relaxed atmosphere.
"I love it when I see people coming in and having an enjoyable time," said Watkins. "It gives me a great deal of pleasure to know that something I have created is appreciated by other people. This is a product and, when someone buys it, that gives me new faith in it.
"And when you see the same people coming in time after time, then you know you're doing it right".