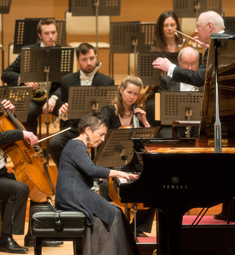 London's oldest symphony orchestra marks its golden jubilee of first visit to Japan
More focus on community, family, education
Director lauds warmth, friendliness, trust
Japan is ensemble's top foreign market
As the final note of Bruckner's Symphony No 9 died away in the highest reaches of the Yokohama Minato Mirai Hall, the crowd erupted into applause.
Japanese audiences have a deep knowledge of, and appreciation for, exceptional classical music—and in particular, it seems, when it is performed by the London Symphony Orchestra (LSO).
This regard for the oldest symphony orchestra in London, combined with the many friends and supporters it has found here, keeps the orchestra coming back to Japan.
"Japanese audiences are immensely well informed about classical music, which is deeply rooted in the culture for many people here", Kathryn McDowell CBE, managing director of the orchestra, told BCCJ ACUMEN.
"There is always a strong connection with audiences in Japan when we step onto the platform, and because there are so many beautiful concert halls here, the orchestra sounds so good in these palaces of art", McDowell explained.
The orchestra marked the 50th anniversary of its first visit to Japan with a series of performances in Osaka, Fukui, Tokyo and Yokohama in early March, following two successful performances in South Korea.
Bernard Haitink, one of the world's most celebrated conductors, put the musicians through their paces with the Bruckner symphony, while Portuguese pianist Maria João Pires—a Japanophile and classical artist—performed solo pieces by Mozart and Beethoven.
At Tokyo's Suntory Hall, the orchestra put on its first Family Concert. Aimed at families and children aged between seven and 12, the event was part of its LSO Discovery award-winning education and community programme. This community focus had also been reflected in the invitation to visit London that had been extended last year to some 100 young musicians from across Japan.
As part of the orchestra's outreach programme, during this trip McDowell and some of the musicians also visited a Japanese school in Kawasaki, Kanagawa Prefecture.
"We come to Japan every two years and, at the moment, are developing a special initiative to bring some of the smaller ensembles when the full orchestra does not come", she said.
"The brass quintet came last year and, in the future, we will bring the wind or strings sections.
"That's something that is quite special to Japan and historically we have a strong connection here", she added. "I'm talking with the British Council and the [British] embassy [Tokyo] about how to strengthen those links even further".
Financial services organisations—the Nomura Group and Moore Group—sponsored some of the performances of the current tour.
Previously, supporters have included Takeda Pharmaceutical Company Limited, Mitsubishi Corporation, Hitachi, Ltd., Toshiba Corporation and Mizuho Bank, Ltd. Meanwhile, Canon Inc. is supporting the orchestra's Russian tour later this year.
In addition, this summer the LSO will perform at the world-famous Aix-en-Provence music festival held in the French town of the same name during June and July; spend its annual residency in New York in October; as well as visit Germany, China, India, Singapore and Australia.
Widely regarded as the top orchestra in London, the LSO was founded in 1904 and has been based at central London's Barbican Centre since 1982.
As the world's most recorded orchestra, it first made gramophone recordings in 1912, and is featured on more than 200 cinema soundtracks, including that for the Star Wars film series.
The LSO set up its own recording label 12 years ago, and Japan now is its second-largest market after the UK.
"There is a real tradition of Japanese audiences anticipating what is happening in classical music and then coming and supporting it when it is here", said McDowell, who was awarded a Commander of the Most Excellent Order of the British Empire (CBE) in Queen Elizabeth II's 2011 Birthday Honours list for her work in music.
"I would say that the Japanese are ahead of the game when it comes to music.
"I have been coming to Japan for all these years and there is a real sense of warmth as soon as we step onto that platform, and we are very happy to reciprocate that in London", she said.
"We have been able to ride some storms over the years—economic or whatever—but as well as the warmth, there has also been a real sense of friendliness, loyalty and trust. This is very similar to what we are trying to foster in the LSO", she said.