With a deft flick, Chris Wheeler flips the six cuts of prime British lamb that are quickly browning in the frying pan before turning to stir the ragout of beans and, in yet another pan, a sauce that brings together the unlikely combination of chocolate and chilli.
Beneath spotlights and a camera suspended above the stage that captures his every culinary move, Wheeler mounds the beans in the centre of a large plate, carefully arranges the roast lamb on its flanks, adds a handful or cherry tomatoes and drizzles sauce over his creation. It looks stunning and, when shared with onlookers at the Foodex Japan trade show, clearly impresses their sense of taste as well.
And for anyone who still remained to be impressed by the quality of British meat, Wheeler, who is the award-winning executive chef of the renowned Stoke Park Country Club, Spa and Hotel, turns his attention to a fillet of British beef that he roasts and serves with pomme purée, baby carrots, wild mushrooms and kale, topped with a red wine sauce.
"A lot of Japanese people are a bit reluctant to try lamb, in particular, but then when they do you see this look of real surprise come across their faces," Wheeler told ACUMEN. "They get that 'melt-in-the-mouth moment' and their faces are a picture because they just didn't expect it to be that good".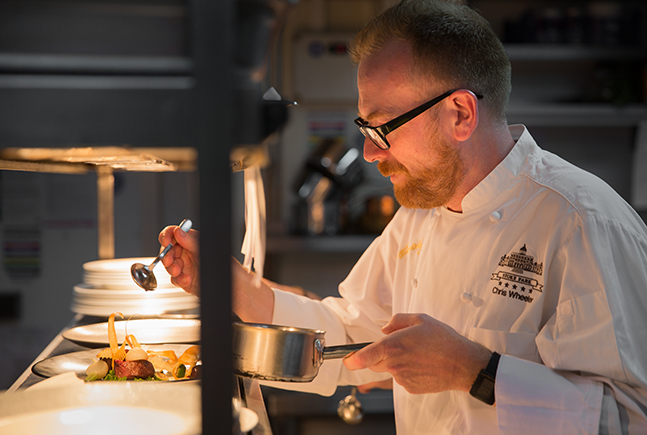 Seasoned star
That message—one of exceeded expectations—is what Wheeler brought to the largest food trade event in Asia, held at the Makuhari Messe exhibi­tion centre over four days in early March.
Nicknamed the Ginger Chef, he began his career at the Domaine de Bassibé Hotel's Michelin-starred restaurant in the French town of Segos. Next he served as the right-hand man to legendary chef Jean-Christophe Novelli, and went on to hone his skills in the kitchens of the Four Seasons Park Lane, Le Provence and Les Saveurs, Mayfair, before joining Stoke Park, in Buckinghamshire, in 2003.
He has appeared in numerous television programmes in the UK, including Hell's Kitchen and the BBC's Great British Menu, and serves as the UK Ambassador for Quality Standard Mark for Beef and Lamb.
"All the people I have been talking to, here at the show and at the event we put on at the embassy earlier in the week (see page 20), said that the lamb available in Japan is very different to British lamb," he said. "They say the flavour is lighter than they are used to, and the women, in particular, have commented on how the texture and flavours are more delicate.
"Every time someone has tried the British lamb that we have served, the reaction has been the same—it's 'Wow!'"
We meat again
UK producers were delighted by the announce­ment in January that the Japanese government would be lifting its ban on imports of British beef and lamb. Some 23 years after the ban was introduced, the challenge now is for the industry to regain its foothold in a market which Wheeler believes has huge potential.
"I like to work with British beef and lamb simply because it's such a good product," he said. "I think that, in the UK, people don't cook lamb at home like they used to, and we tend to eat beef and chicken more. But, I think lamb is a great meat and we should be serving it more often".
When it comes to beef, there is also a need to get away from the "old stereotype that British beef needs two days in the oven," because the meat that is being farmed in the UK today is magnificent, he added.
There is also a greater awareness of the pro­venance of meat in the UK now, which will help to reassure Japanese consumers.
"Traceability is such an important part of the industry now, with a clear line from farmers' fields to the fork," Wheeler said. "I think that any chef worth his salt today knows the name of the farmer who supplied his meat. And the customer wants to know that relationship exists as well.
"And I think that a growing number of British chefs want to work with British ingredients, because we have got so good at producing really good ingredients".
Contrasting challenges
As Wheeler sees it, the challenges for beef and lamb in the Japanese market are quite different.
British beef is up against a strong domestic industry—wagyu is recognised as arguably the best in the world—while the US and Australia export large amounts of beef to Japan. British exporters need to be able to deliver high-end beef that fills a niche in the market, he suggested.
When it comes to lamb, it may be as simple as communicating to the Japanese consumer that it does not have to be the strong-smelling mutton that they have been exposed to previously.
"People have to try both the beef and lamb that the UK produces," he said. "That will be what convinces them".