New EU envoy to Japan
Viorel Isticioaia-Budura took up his post as ambassador extraordinary and plenipotentiary of the European Union (EU) to Japan in December, his second posting here after having served as minister-counsellor at the Embassy of Romania in 1992-1996.
A graduate of the University of Bucharest and China's Nankai University, he has a long association with East Asia and has served as ambassador of Romania to South Korea and China.
BCCJ ACUMEN: How would you characterise relations between the EU and Japan?
Japan—as one of the oldest democracies in the region—is a natural partner for the EU. We are like-minded associates that value democracy, the rule of law, open markets and respect for human rights.
While our bilateral relations have traditionally focused on trade and investment, both sides recognise that there is much more potential to our partnership.
We now are striving to create a new political framework that both reflects this and broadens our areas of cooperation, including in the fields of climate change, energy, environmental protection, education, research and innovation.
With our ties as a solid base, we are seeking to deepen our cooperation and collaboration, so that we can contribute to regional and international peace and security.
A new political framework is being negotiated in the ongoing talks on a bilateral Strategic Partnership Agreement (SPA), which are taking place parallel to negotiations on the EU–Japan Free Trade Agreement (FTA).
What would an FTA mean to British firms in Japan?
Improved access to the Japanese market would be a key benefit for British firms here.
The successful conclusion of the FTA will result in, among other things, the elimination of customs duties on virtually all imported products; the simplification of customs procedures; the acceleration of the review and approval procedures for food, healthcare products and machinery; better access to government projects; and improved conditions for foreign investment.
What efforts are the EU making to get British beef back in Japan?
Since we started FTA negotiations in 2013, Japan has lifted the ban on beef—instituted following an epidemic of bovine spongiform encephalopathy—that it had enforced on four EU member states: France, the Netherlands, Ireland and Poland.
The EU expects that Japan will rapidly follow this positive development by lifting its ban on the remaining countries with an export interest, including the UK. Japanese authorities are currently processing the UK application and the EU is closely monitoring progress.
Which areas of EU–Japan relations have seen greatest improvements lately and which require more work?
Relations between Europe and Japan have come a long way.
In the 1970s and '80s, efforts mostly involved addressing bilateral trade friction.
Negotiations on an SPA—as well as the EU-Japan Science and Technology Cooperation Agreement of March 2011—show how our relationship has developed and matured.
This agreement provides great possibilities to build on ways Europe and Japan can work together in the areas of science, technology and innovation cooperation.
Last autumn, we broke new ground by launching our first bilateral dialogue on cyber issues and space, as had been agreed by leaders on both sides at an EU–Japan Summit, held in Brussels in May 2014.
How are the FTA talks progressing, and how far is there still to go?
The last round of FTA negotiations, which took place in December, was constructive.
Prime Minister Shinzo Abe suggested that we should aim at reaching an agreement by the end of this year. While this is not out of reach, major issues remain to be tackled if we are to achieve this.
One key request from EU industry is the elimination of non-tariff barriers, which hinder access to the Japanese market.
In this context, convergence with international standards—in such areas as the automotive, electrical equipment and pharmaceutical sectors—should be our joint objective, as it has strategic value for both European and Japanese industries.
The elimination of tariffs in the agricultural and food sectors remains a must for the EU to be able to conclude this FTA.
Similarly, access to an open and transparent public procurement market in Japan is indispensable for our economic operators.
Railways and urban transport are areas of particular concern.
Finally, we need to find practical solutions for the protection of the EU geographical indications that apply to agricultural products—such as cheese, wine and ham—in Japan.
What is the status on securing mutual recognition in the areas of medical devices and pharmaceuticals?
Discussions are making progress.
On pharmaceuticals, we are currently negotiating an extension of our agreement on good manufacturing practice, with a view to applying mutual recognition to additional products of interest to our industry, such as sterile drugs and biological products.
Regarding medical devices, we are working very closely with our Japanese counterparts to ensure that the Pharmaceutical Affairs Law that came into force in November 2014 holds to its promises.
We expect it to speed up examination and approval procedures for medical devices, as well as streamline inspection procedures for manufacturing sites.
What changes might the FTA bring to encourage market liberalisation and promote foreign direct investment?
In the context of the FTA, we are looking at how to ensure better regulatory convergence between the EU and Japan.
Our aim is to make the life of economic operators easier, while ensuring that a product approved by one party will be automatically accepted by another, without the need for additional testing or certification.
These discussions are starting to bear fruit. Japan has accelerated the adoption of international standards for motor vehicles which, in turn, will reduce the cost of compliance for EU car manufacturers.
Japan also recently changed its textile legislation, to align its labelling requirements with international standards.
In addition to the removal of sectorial barriers, the FTA's market access negotiations will encourage foreign direct investment, since its protection provisions guarantee that governments treat bilateral EU–Japan investment in line with basic principles prohibiting discrimination.
Would the FTA improve transparency in Japanese government procurement?
Access to an open and transparent public procurement market in Japan is critical for the EU in the context of this FTA.
Our objectives in these negotiations are three-fold: First, to agree on rules that will ensure EU firms are not discriminated against when tendering for public contracts; second, to maximise transparency in tendering for public contracts to ensure EU and Japanese firms are aware of opportunities in each others' markets; and finally, to increase the opportunities for EU firms to participate in public tenders at all government levels, namely, central, regional and municipal.
Have we seen any positive effects of Japan's accession to the Hague Convention?
The EU, with a coalition of like-minded states, worked hard to encourage Japan to join the convention—essentially a mechanism to protect the interests of children from broken marriages, and to enforce parental access rights—which it did in April 2014.
The EU very much welcomed Japan's accession and, since then, the agreement has proved its worth, with both parents in Japan and Europe able to benefit from the statute.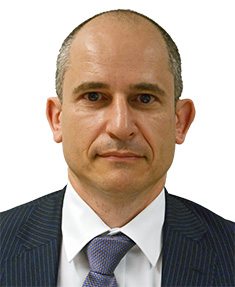 Briton in deputy role
Jonathan Hatwell took up his post as deputy head of the European Union's delegation to Japan last September, after 10 years in a variety of roles at the EU's headquarters in Brussels.
A graduate of the UCL School of Slavonic and East European Studies, where he earned a first class degree in Italian and Romanian, Hatwell's most recent post before arriving in Japan was head of the European External Action Service, overseeing regional issues for the Americas.
Previously, the 45-year-old had served as head of division for Japan, Korea, Australia and New Zealand in the EU's Asia and Pacific Department.