The little car that came a long way
For a compact car, the Mini has acquired a very large following. Nowhere is that more so than in another nation that values the aesthetic worth of the compact and intricate over the big and bulky.
"The Japanese have a special love of Minis, and I believe that's because we make a really good combination", said Jiro Shimazu, owner of Mini specialist Turtle Trading. "It's a question of size as well as the feel of the car for us. It is almost as if they have become a part of our culture, even though they are not Japanese.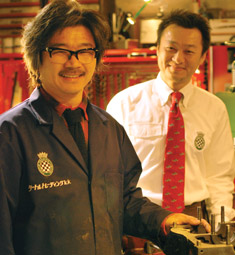 "And although these cars are no longer in production, this business is doing well and growing", he added as he worked on his present project. This 970cc Mini Cooper S, made in 1965, has been fitted with bucket seats and an internal roll bar, while the metal GB plate is still attached to the rear. A sticker from the BMC Special Tuning Department in Abingdon, Oxfordshire continues to earn pride of place in the rear window.
Shimazu opened his second Turtle Trading showroom in October 2007, in the Yokohama suburb of Negishi, to meet increasing demand from Japan's fanatical Mini fans; this outpost now caters to customers south of Tokyo, while his original Saitama Prefecture shop meets the needs of his loyal customers to the north of the capital.
Shimazu, 51, is up to his elbows in the engine of the Cooper in the pristine repair shop of his Yokohama garage, preparing it for the Japanese equivalent of the dreaded MOT. He would have been 10 years old when this particular car rolled off the production lines in the UK and he says he can trace his love of the vehicle back to his youth.
"My father loved British cars and we always had one—sometimes a Lotus, at other times a Morgan—so it is natural that the first car I ever bought, when I turned 18, was a Mini", he said.
That initial admiration for the vehicle has been turned into a business that is thriving while Japan's own car manufacturers feel the economic downturn. While those organisations rely on the scale of sales to remain profitable, Shimazu sells around five cars a month and, on many more vehicles than that, each month performs tune-ups and repairs—fabricating many parts himself and importing others from the UK.
One of the keys to the entire operation is Shimazu's younger brother Saburo, who is based in Bath, but has built up a network of contacts across the UK who are constantly on the look-out for Minis that are either in sufficiently good shape to be shipped to Japan immediately or need to undergo restoration work first.
But Saburo is not only on the lookout for cars and parts, he also scours junk shops, flea markets and picks up the unwanted debris from garages going out of business for authentic British automobile items that have been used to turn the shop floor into an Aladdin's Cave of motoring memorabilia.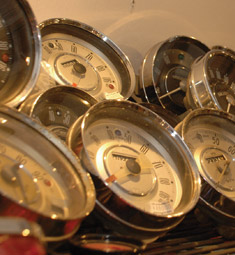 The coffee table in the third-floor showroom is a Goodyear Eagle F1 racing tyre topped with a piece of perspex, shelves hold mint-condition gauges, dials and speedometers and the walls are covered with old-fashioned metal adverts for Dunlop tyres, Lucas generators and the RAC. A rack holds British Motoring Corp. road maps of Devon, Dorset and Norfolk dating from 1951. A large part of the wall space is given over to books, as well as a comprehensive selection of Haynes Manuals, including repair manuals for the Land Rover, Ford Capri, Jaguar and Triumph.
A replacement steering wheel sells for ¥68,000, leather driving gloves have a price tag of ¥13,560 and a helmet identical to the ones used in The Italian Job—silver with a black stripe and immaculate leather liner—will set you back ¥68,000. Shimazu can also sell you a copy of the original film, although Tsutomu Nishimura, manager of the Yokohama showroom, says he winces every time he watches it because it's just such a waste of good Minis.
"I don't mind working on other cars, but the first car I ever bought was a midnight-blue Mini 1,000cc, in 1987, and it changed my life", said Nishimura. "I've had five since then and I still own three of them".
He once bought a Japanese car, Nishimura confessed, but couldn't shake the feeling that he was missing out on a far better driving experience and so got rid of it—and he is even less impressed with the vehicle that bears the same name but has a German heritage.
"I don't even think of it as a Mini", he said. "It's not even a related car. Funnily enough, we have had quite a lot of people go to BMW and try their Mini, then come to us and try the classic version—and they drive away in one of our cars".
Shimazu said he does not make a huge profit on sales of vehicles—getting them to Japan is already an expensive proposition, after all—but makes the biggest margin on repairs.
A common complaint in the hot and humid conditions of a Japanese summer, he says, is overheating. Yet drivers in this country of the classic Mini generally appreciate the fact that, although the vehicle's engineering is based on technology dating back more than half a century, it still holds up well.