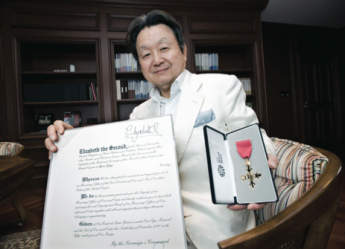 Honorary OBE President, chairman and Ceo Yagi Tsusho Limited
In June, Yuzo Yagi was awarded an Honorary OBE (Honorary Officer of the Most Excellent Order of the British Empire) for his support of the British fashion industry through his firm, Yagi Tsusho Limited, which has its headquarters in Osaka.
As well as importing into and distributing around Japan a number of British brands, the firm has invested in UK businesses with which it had long working relationships. The firm invested in J & M Davidson in 2005, securing the future of the bag and accessories maker and, in 2007, took over legendary raincoat-maker Mackintosh, ensuring its survival by boosting global sales.
Yagi Tsusho, a private, family-run firm established in 1946 and involved in importing and exporting, has operations across Asia, Europe and the US.
Congratulations on your honorary OBE. What does it mean to you?
It is a great honour to be appointed OBE. I'd like to thank most sincerely Her Majesty the Queen. Personally it's a great honour, but for the firm it also means a lot because our customers realise how strong we are in the UK fashion business.
How important has the UK been to your business?
The UK has contributed a lot to our growth. The firm has been involved with the UK for more than 40 years, since my father started importing British fabric to Japan. Actually, that line of business didn't last so long, but we had a never-ending desire to work with the UK because we have a great respect for British style.
What is it about British style that you particularly like?
It has great tradition and heritage and is innovative and contemporary.
Do you feel a sense of responsibility in taking over an iconic brand such as Mackintosh?
We have put a lot into Mackintosh to make it more marketable, but we have never tried to change the essence and core values of what the brand is. And all the coats are still made in Britain; we have one factory in Lanarkshire, Scotland and one in Lancashire, England. We have increased demand for Mackintosh over the past few years through global marketing—despite the bad economy—and are now hiring new workers at the factories to raise capacity. They are actually more like old-fashioned workshops for craftsmen than factories.
We plan to make the Mackintosh, Barbour and J & M Davidson brands sizeable businesses in Japan and to transform Mackintosh into a global luxury brand. We're investing a lot in Mackintosh; we opened the flagship store in London this year and hired a new director in charge of marketing. We plan to open the first Mackintosh flagship store in Tokyo in the next year, and then in Milan, Paris and other cities. Despite being a trading firm, we're considered a leader in handling luxury British brands, of which we now have a lion's share in Japan.
So you still see yourselves as a trading firm?
Yes, but now we are in control of everything, from manufacturing through trading to retail. So, when a Mackintosh is sold in Tokyo, the data is sent straight to the factory in Scotland—that flow of information is really important in our business.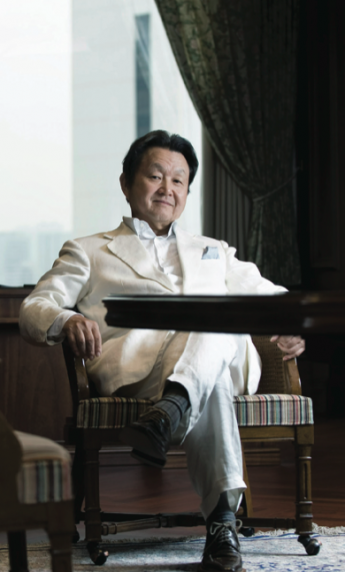 Do you have any plans for further investment or acquisitions in the UK?
Yes, we are looking for British firms that, with great products, heritage and tradition, still manufacture in the UK. The British government should put more emphasis on what is made in Britain, because the country cannot survive only on finance. They should try to concentrate on innovative products made in the UK.
We are looking for good candidates and are prepared to invest in the UK. We're always looking for firms with a great brand. We're not looking for the cheapest price, because we cater to the high-end of the market.
As well as your business interests, you also have strong cultural ties to Britain.
We are very interested in British arts and culture, and I'm a member of the Japanese Committee of Honour for the Royal Academy of Arts. In 2008, Yagi Tsusho sponsored a retrospective of the Turner Prize at the Mori Art Museum in Tokyo.
You also have interests in the foodstuffs business; how did that come about?
Well, we are a trading firm at our core and we actually started doing business with China in the 1960s, before diplomatic relations between our two countries had been normalised. The Chinese government asked us to sell peanuts and honey because they had so much of them. We have been doing this for many years and we are trying to add more specialist niche products. We were one of the first Japanese firms to establish a joint venture in China and the first foreign firm to put on a fashion show in China.
What is your vision for the future of yagi Tsusho?
We want to be a fashion conglomerate specialising in distinctive products with great heritage, such as Mackintosh. We're at the planning stage of that now, but I believe my son will achieve that target in the near future. The value of imported, branded fashion has halved over the past decade or so to $8bn in 2010, but our share of this has grown considerably over that time, thanks mainly to
imports of quality British brands. And $8bn is still a large market.